We had originally planned to head up to Ballarat on Sunday to go to Sovereign Hill and hopefully catch up with Steph. But Bill needed a decent rest day having only just got over his jetlag and we were all somewhat weary after our fleeting visit to Tasmania.. So instead, mum and I saw this as the perfect chance to have some time together so we left at 8am for our old routine of going to the Flemington Market to look at the crafts, get an egg and bacon roll and cross things off our lists! Confession – I also needed a new pair of moccasins and I love the ones from Flemington.
The crowd was a lot more wandering-friendly that at Salamanca market.
We bought back Passionfruit Sponge for afternoon tea and relaxed for the rest of the afternoon.
That night, Bill and I headed out with Nadine and Chris to Taco Bill. Taco Bill is an old haunt of ours and of course, Bill needed to see a Taco Bill instead of Taco Bell. The Taco Bill we go to is a really really good one (for as good as Aussie Mexican can be!) especially compared to the one in the CBD! So we had a lovely time catching up over their super sweet pineapple margaritas and piping hot nachos!
Here is Bill out the front of his namesake restaurant –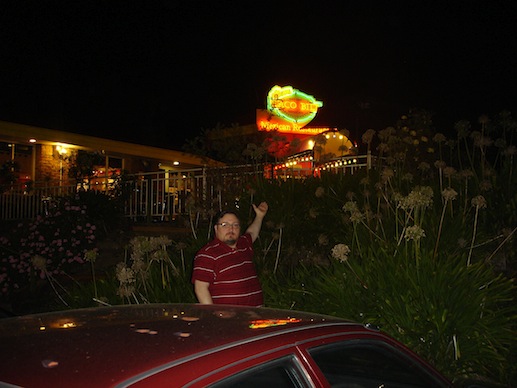 Nadine and I –