So the 4th of July has come and gone and it was a wonderfully relaxing day.
We started early at Mass and then dropped into the Associated to get some ice and come home to pack all of our picnic. We spent Saturday afternoon doing bits of cooking and cleaning to makes sure Sunday would be a real day of rest.
Our plan was to have a picnic in Fort Greene Park which is our local park a few blocks away and then make sure the rest of the day was spent relaxing. We ended up deciding to skip on the lobsters this year and ordered a batch of fresh prawns instead. I had them how I love them – nice and cold with lots of lemon juice squeezed over them. Bill made a prawn salad for him with mayonnaise, celery, hot sauce, black pepper and curry that he had on a roll. We had a full container of Billemonade.
Bill made his super-duper-oh-so-perfect potato salad. I made a big bowl of tabouli. After talking about it recently (and all the strange names it has) Bill got me some imitation crab meat (seafood extender/highlighter) that I cut up and then drench in lemon juice with finely chopped celery and parsley. On a whim we picked up some cheese doodle chips to make sure we stained our fingers orange!
We also had beautiful meat patties that we had in rolls that we cooked before we left. One special thing about this was this was not just any meat – Bill ground our own. Buying a nice cut of beef and doing it this way means that you are getting REAL MINCED MEAT! It was no mystery what was in our burgers and we are sold on doing our own meat mincing now.
The only downside was the park was quite dry so the ground was really hard and the temperature was high but thankfully the humidity hadn't settled in so it was nice in the shade. On the way home we stopped into Bittersweet and I got a passionfruit sorbet. We came home and I got this gorgeous bunch of pink roses to brighten up the lounge room.
Here are some other photos –
Our salads and container of ketchup for me. Seriously the glass pyrex dishes are one of the best purchases we've ever made. They are fantastic – you cannot beat glass for food/salad/leftover storage –
A bit of a strange mix of stuff…
My prawns –
Bill's prawn salad –
Amazing Billemonade –
Bill's curls come to life in the hot weather!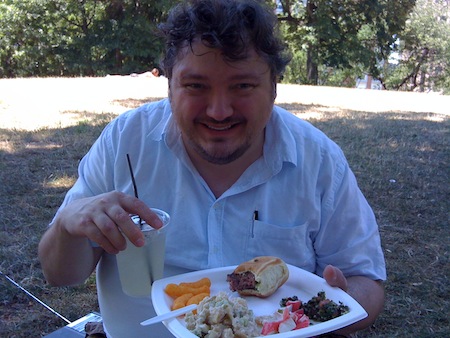 Hot and dry at Fort Greene Park –
We then settled in to watch the various fireworks broadcasts. Number one by a MILE was the fireworks and concert from Washington DC. It was beautiful! Reba McEntire sung beautifully and the whole broadcast was just gorgeous and the Washington Mall is a stunning backdrop for fireworks.
We time delayed the New York fireworks that we ended up fast forwarding through the first half an hour – it was painful to watch. Justin Beiber, screaming girls and just… trashy. The fireworks afterwards didn't feel any different to last years and the whole NBC production was forgettable.
Then the Boston broadcast of the fireworks with the Boston Pops was fun – full of lots of red, white and blue and the singalong part of the night was excellent.
We are already looking forward to the 4th of July 2011!